Christmas was again spent in AZ. Devin and Addie were so excited to go to Grandma's house, although Devin was concerned about Santa finding us. All month he kept asking me, "How will Santa know where we are?" He had a lot of other questions about Santa this year. He wanted to know if Santa could see him ALL the time--I, of course, told him Santa could see him ALL the time so he better be nice. He wanted to know how Santa gets into houses that don't have chimneys (like ours). He wanted to know how they make all the toys. There were many more questions, but his curiosity was really cute.

I had planned on making stocking for the kids to match the ones Pam (Jared's mom) made for Jared and I, but I soon realized that was not going to happen. We bought the kids cheapo $1 stockings and Steph helped them decorate them with "sparkles" aka glitter.

While Devin was decorating his, he told Steph he wanted a heart. I told him hearts weren't that Christmasy (thinking he should stick to candy canes and Christmas trees and such). He told me "No. Christmas is about loving everyone." Almost made me cry to hear such a sweet explanation of what Christmas really is all about.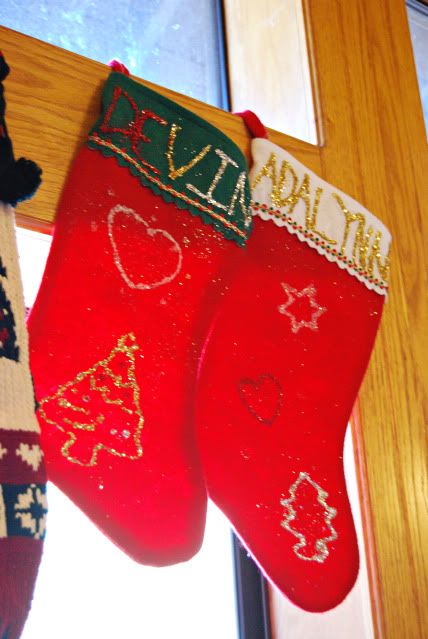 Decorating gingerbread houses. My family is so competitive and creative--ours always looks the worst (thanks a lot Devin and Adalynn). Jen and James made a pretty impressive castle. Steph and Emily had the "green" house (notice the solar panels), and Mom's was the pretty house.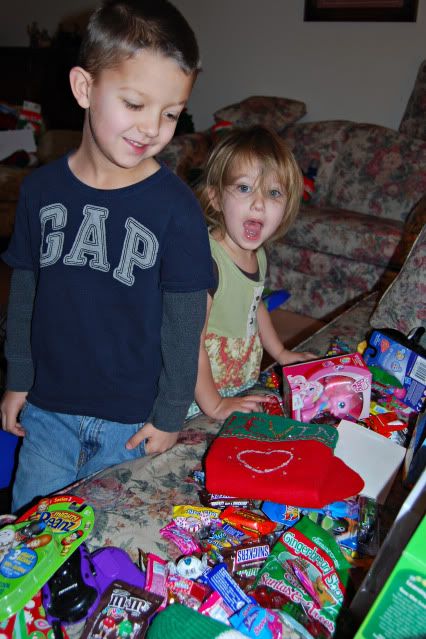 Addie would have been happy with anything this year. She loves the Wonder Pets and Barney so we got her a Barney doll and Wonder Pets boat thing. My family totally spoiled her and Devin though. Every one of my siblings got the kids a few things each so along with the presents from us and my parents it was a lot.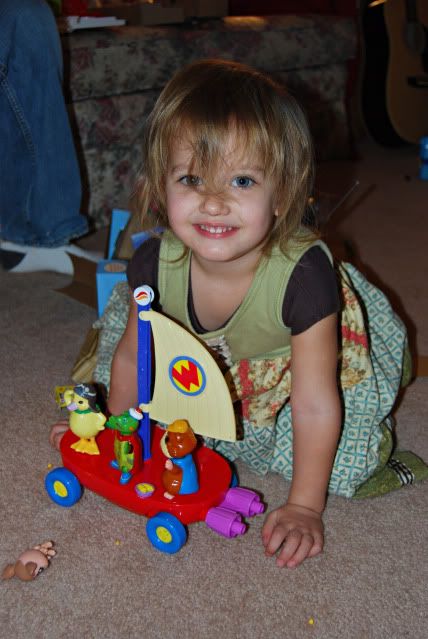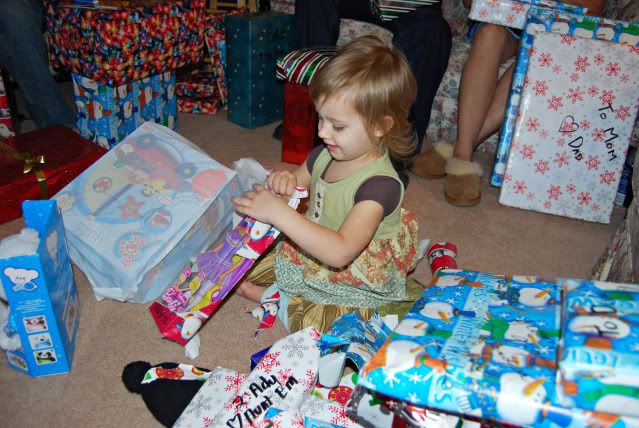 For months Devin had been telling us he wanted Nintendo DSI. We just couldn't justify spending almost $200 for a present we weren't sure he would like. Heck even if we were sure he would like it, that is a lot for a 5 year old! He told Santa that it was what he wanted so I started early to soften the blow. I told him it was too expensive and he told me, "No. It's not too expensive for Santa. He can just MAKE one." Hmm....I wasn't sure what to say to that one, so I just told him he wasn't going to get it. So we got him a Leap Frog Leapster instead. Devin and Adalynn love it and have spent hours playing games. Devin also got a lot of art stuff--something he seems to be really into lately.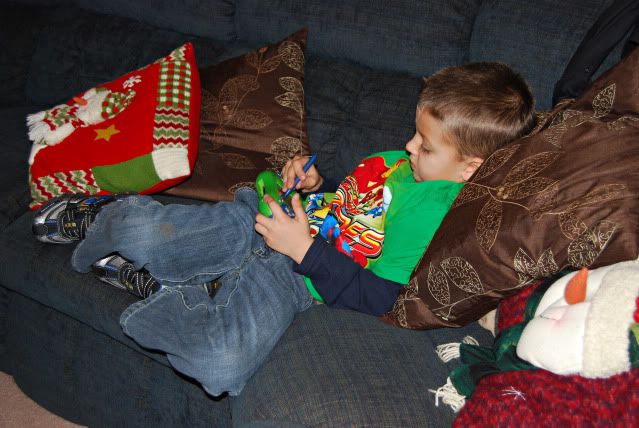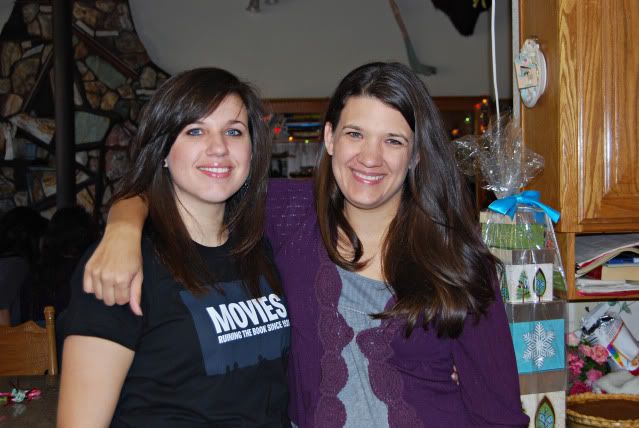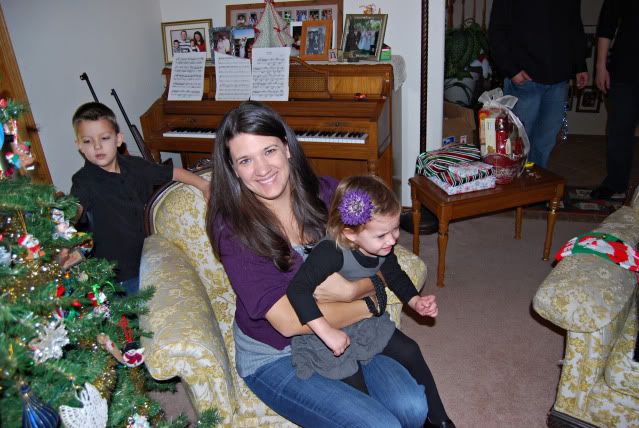 We took a few family pictures since everyone was home.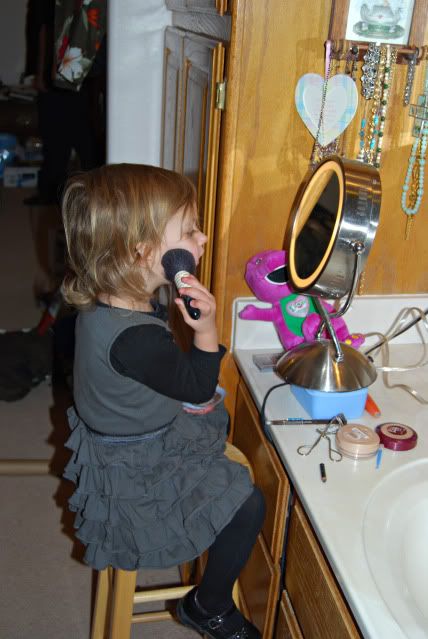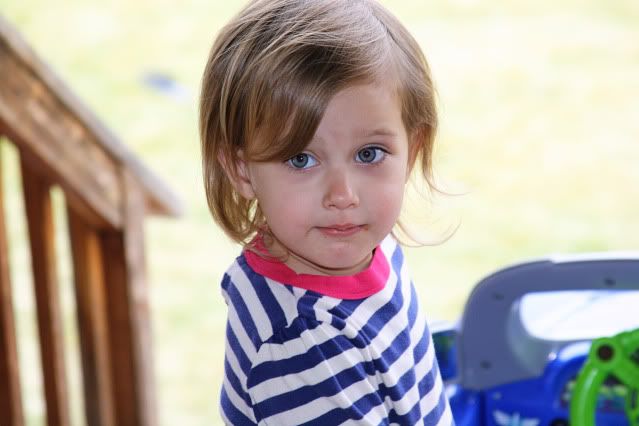 If you know my family, you know that a holiday isn't complete until a few guns are shot. I had mentioned to my dad that Jared and I were interested in getting a hand gun so he had me shoot a few different ones and taught me a lot of what I needed to know, even how to clean it. He ended up giving us one of his old revolvers--it is a 357 magnum (38 special?).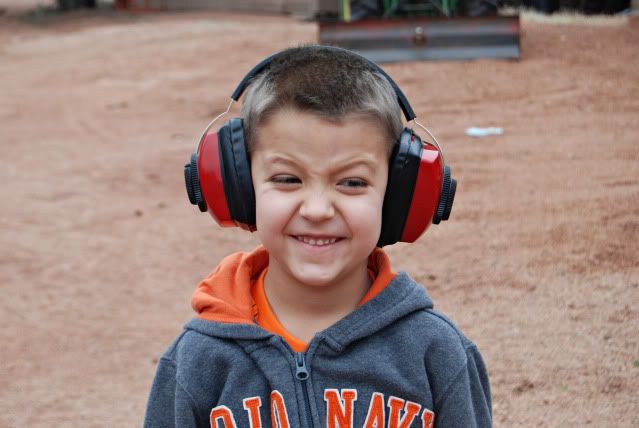 Checking out the Osama target.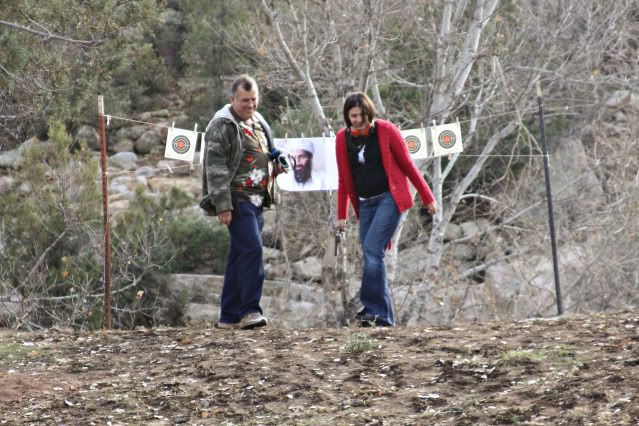 Devin was more interested in collecting all of the shells that flew out of the gun then actually shooting.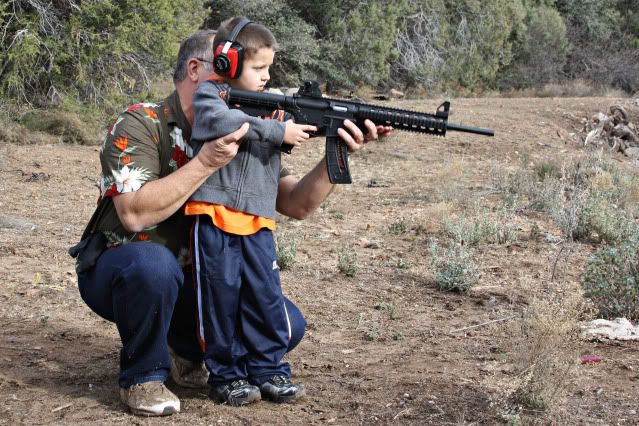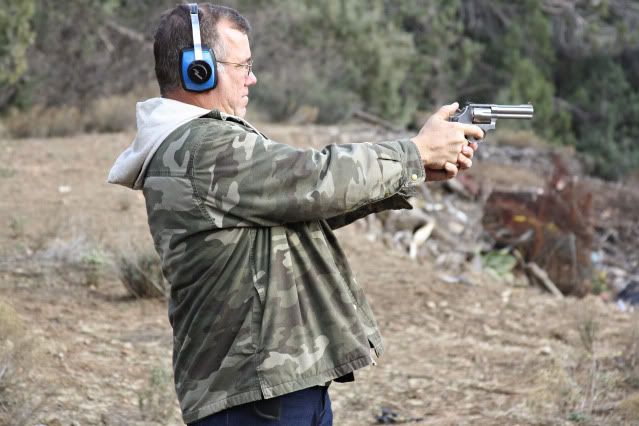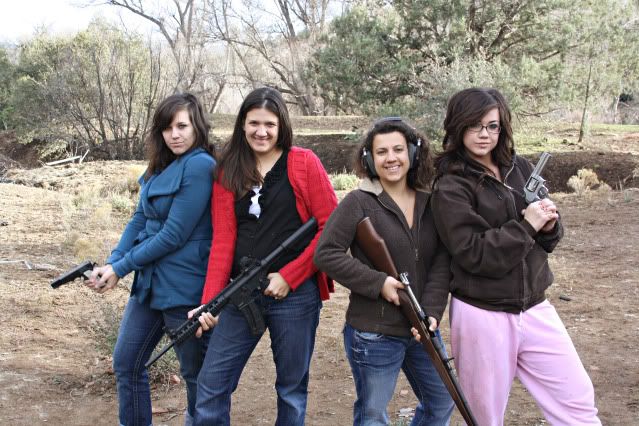 This is our present. We really didn't buy each other anything and we got money for Christmas so we spent the week after Christmas looking around. After almost 10 years of marriage we were finally able to get rid of our cheap Shopko entertainment center and small TV. The only problem is now we have about 50 more sports channels (including the mountain) so that is all we have been watching.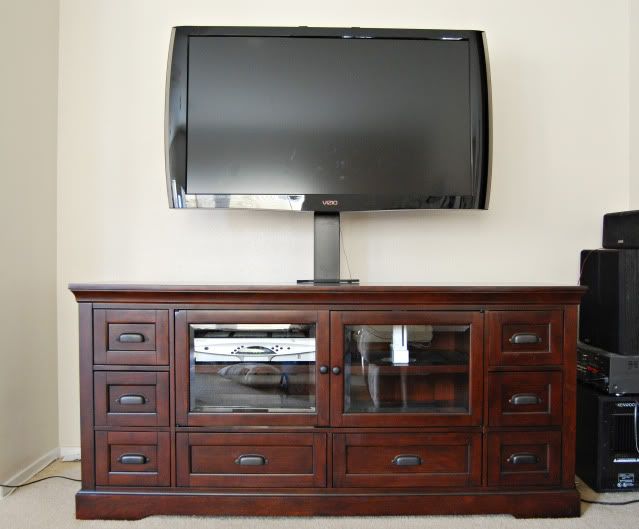 I'm again glad we were able to go home. My parents and siblings all love my kids so much and love playing with them. I can't tell you how many times I couldn't find the kids, come to find out Emily or Steph took them up to the tree house. Or coming down to the room and seeing James lying down with the kids trying to get them to sleep (after they were freaking out about a monster in our room). And seeing how excited Devin was to go to Walmart with my dad (my dad bought him all the treats he loves and I usually wont buy). It especially meant a lot this year after being so miserable and hormonal. Thanks to Jared and my family, it really ended up being a special time.